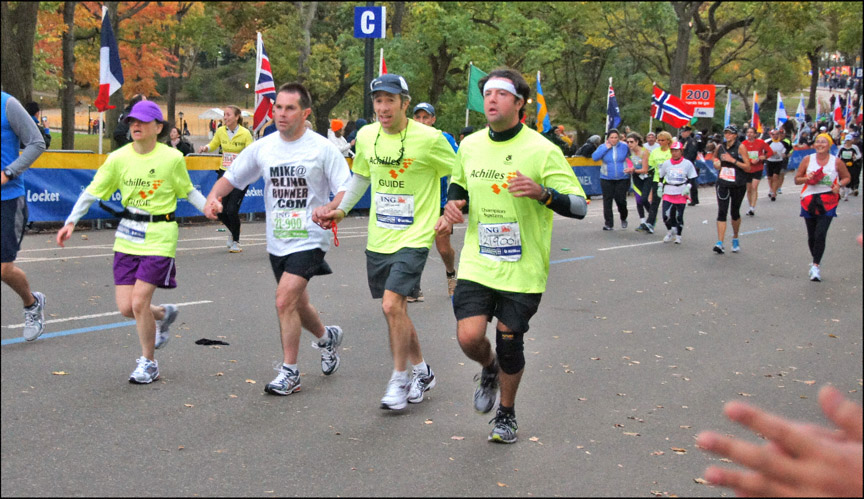 Hi there.
For those of you who don't know me, my name is Michael Lloyd and I live in Birkenhead on Auckland's North Shore in New Zealand. I am blind an have taken up the sport of long distance running, and also do a little tandem cycling .
I have put this BlindRunner site together to share my efforts with others to show that blindness (and other disabilities for that matter) are no reason to stop participating in sporting events, exercise and enjoying life for what it has to offer.
I am the host of The Blind Sport Podcast which can be found at www.theblindsportpodcast.com This is an online audio show dedicated to a variety of blind sporting subjects. Many of the episodes have covered blind running topics so do check it out.
Nothing to see here TV interview
Check out my interview for Nothing to see here TV October 2011 which was done the week prior to the 2011 NYC Marathon. This is a YouTube video and my interview is one of a number of segments in the show.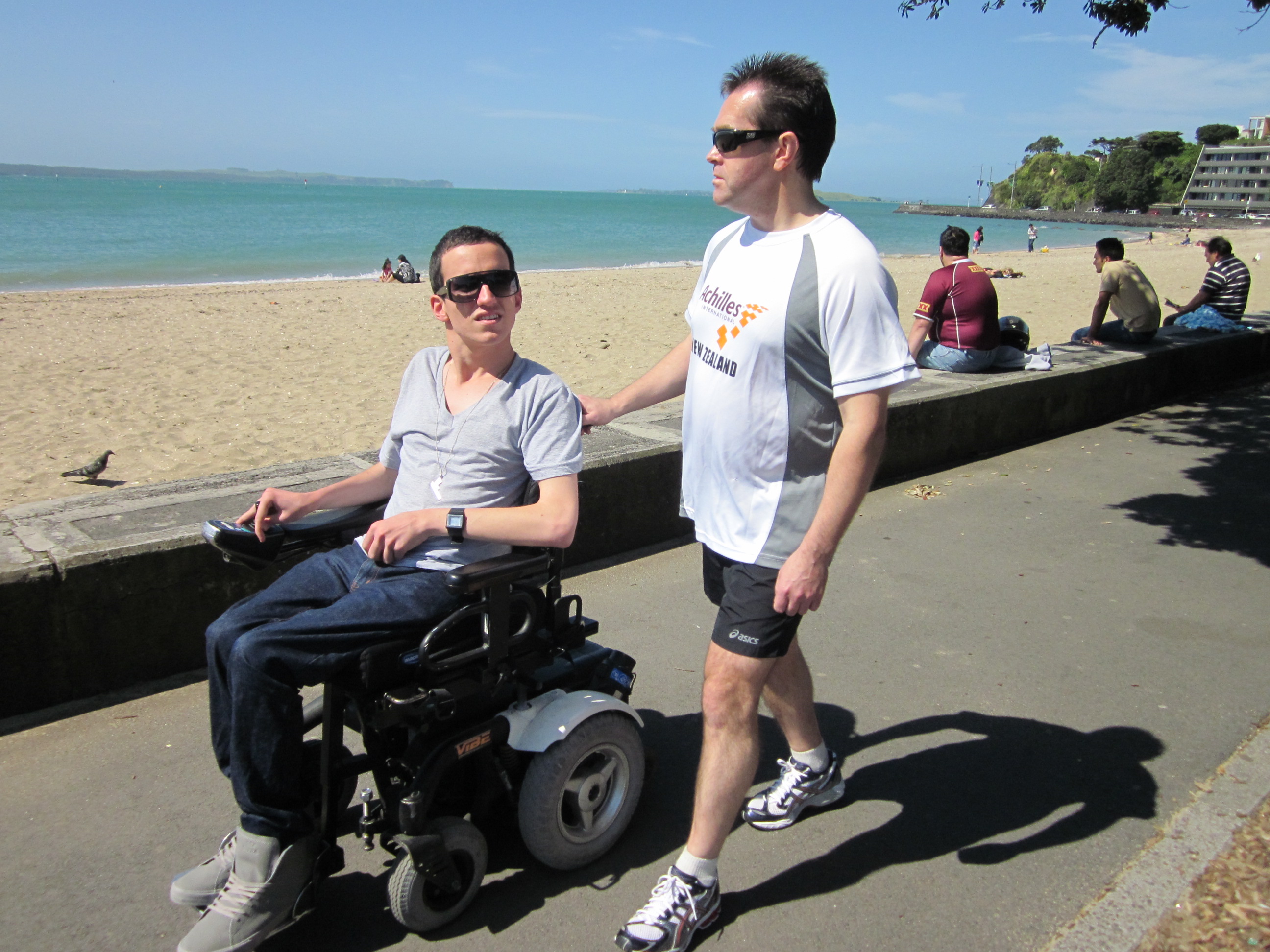 Up Coming Events
Yes again! New York City Marathon on November 5 2017. Number nine for me and I'm fired up to give it all. I have a fantastic guide team this year consisting of my daughter Jessie and good friends Lars and Wendy. We will be part of the Achilles New Zealand team traveling from NZ. Watch out New York here we come.
History
Initially it began in 2006 with the goal to travel to the US and do the 2007 ING New York City Marathon with my brave brother Gavin as my guide and survive. A 42.2 kilometre run through the streets of New York's five boroughs with the support of over two million enthusiastic spectators. Check out my build-up and how I did by viewing my New York Marathon 2007 page.
Then, if that wasn't enough, I did it again in 2009, 2010 and 2011. . I went in 2012 which was the year that Super Storm Sandy closed down the marathon, but then I returned in 2013 (and every year since), and I am now training for 2017.
Check out my New York Marathon 2009 page. my New York Marathon 2010 page. and my New York Marathon 2011 page.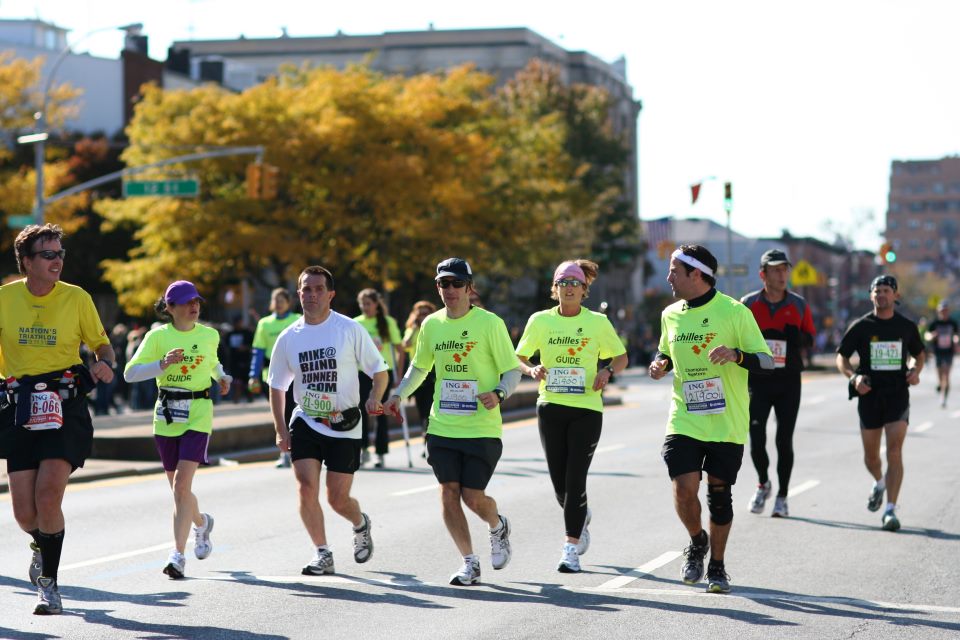 Also, I discovered that my devotion and commitment to training and the persistent quest to overcome physical barriers due to my blindness had, and is still having an inspiring positive effect on both the general community as well as other people with physical impairments. I am constantly receiving comments from people who see me training and participating, that it makes them realise that everybody can achieve far more than they realise as long as they commit their mind, body and soul to the goal, and are prepared to find solutions to challenges that can easily be perceived as barriers.
I have been running with Achilles International New Zealand. Achilles International New Zealand supports people with disabilities to take part in local sports events as well as the New York City Marathon. For more details check out the Achilles International NZ Website or become a fan on the Achilles International NZ Facebook page
Recent Events
Cigna Wellington Round the Bays on February 19 2017. A half marathon guided by Mike McRoberts. This was a great event and it was cool to be part of the Achilles NZ team as always.
2016 New York City Marathon on Nov 6 2016. #8 NY for me and another fantastic day. Guided once again by the amazing Mike McRoberts, we were joined by Drew and Donna once again to create a wonderful team.
Hamilton Half Marathon on Oct 9 2016. A wet start on a new event guided by Mike McRoberts. A solid but challenging run.
Taupo Half Marathon on August 6 2016. Guided by Michelle, Carol and Judy in wind, rain and a touch of snow. The coldest recorded day in Taupo in 32 years. Yeah thanks Taupo. We did it, but it sure was a test with the weather conditions. Character building so they say?
2015 New York City Marathon on Nov 1 2015. My 7th NY and an amazing day. Great weather, great crowd support and a great Achilles guide team. Sandi who I had been training with during the build-up was amazing, Harris was awesome once again (#5 NY for us), and locals Donna and Stephanie. I recorded a podcast about this which can be found at Episode 50 of The Blind Sport Podcast - My 2015 New York City Marathon
Battle of the Sands October 17 2015. Our 2nd year of this event. A 6km run around the sand dunes at Bethells Beach (West Auckland) which includes dune climbs, lake swim, tyre carrying, bucket filling and a lot of running on sand. This was done by a team of blind and vision impaired people and their guides. Damn hard, but heaps of fun.
Taupo Half Marathon on August 6 2015. A great half with a great Achilles NZ guide team of Lars, Judy, Wendy and John. Taupo turned on an amazing day of fun and warm weather.
Tough-Guy Tough-Gal Challenge June 28 2015. Martin and I took on this 6km mud run. Mud, water, cable bridges, crawling under wire and cargo nets, over wooden obstacles, Oh and yeah, lots more mud! I did this with a Blind Foundation team of blind and vision impaired people. A tough event, but a lot of laughs. The cold shower was interesting? This was the second time doing this event.
Cigna Round The Bays on February 22 2015. Guided by Jo, as part of the Achilles NZ team we ran the 10km event in Wellington. A nice flat run and great to have so many Achilles people from all over New Zealand be a part of it.
2014 New York City Marathon on Nov 2 2014. Cold, cold, cold! A cool event in many ways for my sixth NY. Running with Kiri and Greg was awesome. Great work team!
Taupo Half Marathon August 2014. A chilly winters day beside Lake Taupo with Rachel and Greg guiding. Fantastic work as always. A very enjoyable event.
Te Houtaewa Challenge March 2014. A 42.2km marathon on the sand on 90 Mile Beach in Northland New Zealand. This is usually a very different event, but this year was extra special as we were assisted by the head-wind and rain of a Hurricane. This one was almost called off, but it was incredible. My four people guide team were super (even if I did get to kick the only rock on the entire beach LOL). We had a long day and finished a bit wind-blown and sand-blasted, but it was a great day.
2013 New York City Marathon on Nov 3 2013. Amazing atmosphere after the 2012 cancellation due to Super Storm Sandi. My Achilles guide team of Mike, Harris and two local ladies successfully got me through the traffic and 42kms of New York streets to get my 5th NYC Marathon finishers medal. A very incredible day. Thanks guys.
Auckland Sky Tower Corporate Challenge on May 10 2013. We put together a team of five blind runners with their five guides under the name of Team Achilles. 1,150 steps, 51 floors up the highest building in New Zealand. Well done guys. A great effort.
The 110km TelstraClear Challenge cycle on December 11 2011 which I did on the tandem with Jeremy. This was the first time approval had been given by the NZTA for cyclists to cross Aucklands iconic Harbour Bridge and Northern Busway.
ING New York City Marathon on Sunday 6 November 2011. Number 4 NYC Marathon for me with Achilles International NZ. Check out my New York Marathon 2011 page.
Hope and Possibility 5k run. Sunday 28 November 2010. New Zealands first Achilles Hope and Possibility. Awesome day at North Harbour Stadium.
New York City Marathon (Sunday 7 November 2010) 3rd marathon for me. Check out how I did by viewing my New York Marathon 2010 page.
100K Flyer, which is a 100km cycle race from Rotorua to Taupo on Saturday 27 March 2010. This I did with "Paul" from Hamilton as the tandem pilot along with 4,000 other cyclists. Started at 9:30 in Rotorua on a warm sunny day surrounded in more hairless legs than a Centipedes with Alopecia convention. Paul lost his pedal about 100 metres into the race so we stopped to repair that and carried on. A strong headwind made it a grinder and we had to even peddle on the down hills to keep going at a steady pace. Got to Taupo in just over 4 hours. The last few kilometres were awesome as we pushed it down the hill to the finish line. Thanks Paul for giving your all. Cheers Nic for winning gorgeous cheerleader of the day. There was at least 3 blind cyclist competing that I was aware of, so that's great. There is always room for more. More info on the event can be found on the 100K Flyer website
Auckland Round the Bays (Sunday 14 March 2010). In association with Achilles International NZ, completed the 8.4km famous fun run, with what looked like half of Auckland on a warm sunny March Sunday.
New York City Marathon (Sunday 1 November 2009) 2nd marathon for me. Check out my build-up and how I did by viewing my New York Marathon 2009 page.
Anlene Devonport Classic (Sunday 29 March 2009). Ran with Allison Roe as my guide through the streets and beaches of Devonport on Auckland's North Shore. We were planning to do the 5km course, but took a wrong turn somewhere so accidentally invented a 7.5km course of our own. Which I guess means we came first in that division (smile). Awesome weather and great day out. . "Thanks Ally".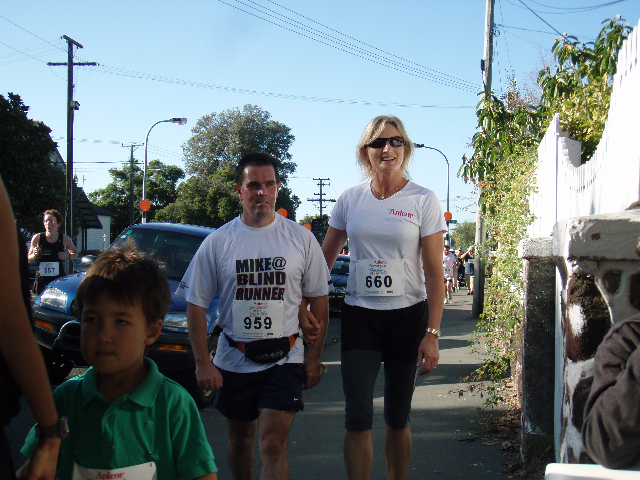 Shore to Shore (Sunday 22 March 2009). Ran the 10km coastal course with Achilles with support from Westpac Bank from Devonport to Milford on Auckland's North Shore. With my guide Diane, we covered a mixture of interesting terrains that included running on road, beach and steps, clambering over rocks and wading in the tide. Awesome day, but none of us could of guessed that the course would be as challenging as it was. A big learner for all including the guides/helpers. "Thanks Diane". Laugh of the day was Mr random kayak man who stunk of fish trying to man-handle me over some rocks. "What the . . .?"
Round the Bays (Sunday 15 March 2009). Auckland's famous 8.4km fun run that has around 100,000 participants running along the waterfront of Auckland. Ran with Achilles with support from Westpac Bank, My guides Diane and John kept us on track. It's always an interesting challenge to navigate your way through such a huge crowd, specially when so many of them are walkers with kids. I managed to squash at least one child and run up the back of heaps more. You've got to consider that a successful days work.
Panasonic People's triathlon (Sunday 14 December 2008) at Mission Bay. We did the sprint tri as a team, with gillian doing the 500m swim guided by Rox and Hayley, and me doing the 20km cycle and 5km run with Wayne. The girls did an awesome swim, Wayne and I kicked ass on the bike, and then my legs crapped out on the run. Got to the end, but it wasn't tidy and felt every step. "Well done all, and many thanks".
Panasonic People's triathlon (Sunday 16 November 2008) at Maraetai Beach. We did the sprint tri as a team with Gillian doing the 500m swim with Roxanne, me and Lloyd on the 20km cycle and gillian and Rox doing the 5km run. An awesome swim by the girls, mind blowing ride by Lloyd and myself and a strong run by the girls. Great introduction to this type of event. We came second out of the sprint teams. "Well done all. Thanks again".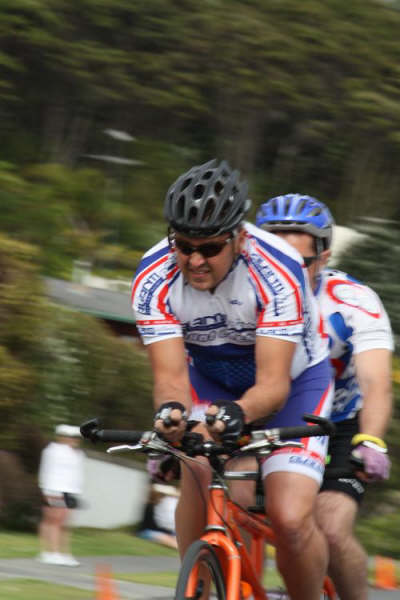 New York City Marathon (Sunday 4 November 2007) My first marathon. Check out my build-up and how I did by viewing my New York Marathon 2007 page.
Sri Chinmoy Self-Transcendence half marathon held at Auckland Domain on Sunday 29 July 2007. Finished in 1:57 which I was fairly happy with as I felt there was still enough fuel in the tank to go a little further. Weather was extreme with heavy rain and winds. Made for an interesting event, but at least it kept the temperature down. This gave me a good idea as to where my ability level was at.
The first real challenge was the Auckland Half marathon on Sunday Oct 29 2006. I managed to complete the run in 2:06 after hideous shins played a big part, but at least we finished the thing.
Other Resources
Visit my Links Page to view the many media releases that have been published relating to my efforts as well as many other interesting related links.
To help you guys who have never run with a blind runner or want to be guides, I have compiled a list of guiding hints and tips to guiding as a basic introduction to being a running guide for a blind runner. This information was also covered in Episode 4 of The Blind Sport Podcast - Running Blind.
Running in an official race or event can be a lot different than a training run so I have created a Event hints and tips page to hopefully assist with any future plans to enter a running event. If you have any other tricks that you think may be helpful to add for others, then please let me know. This information was also covered in Episode 6 of The Blind Sport Podcast - Event Preparation.
I have created a Treadmill Hints & Tips page to give some ideas on what to look for when getting a treadmill and how to use it with no or little vision. All feedback from this page is welcome. If you would prefer to listen to this information about treadmills check out Episode 14 of The Blind Sport Podcast - Treadmill Hints and Tips
I have been doing some Aquajogging as part of my regular training schedule, so I decided to put together a Aquajogging hints and tips page. Check it out and let me know if there is any additional tips that will enhance this page. If you would prefer to listen to this information about Aqua-jogging (deep water running) check out Episode 24 of The Blind Sport Podcast - Deep Water Running
I am always fund raising to help finance all future events. All donations/sponsorships are very much appreciated. All sponsors will have their company/organisation logo showing proudly on this site. There has been a lot of public interest in my past and future plans and I am more than happy to wear your company T-shirts on my training runs/rides around the streets if you can support me. I would be more than happy to speak to any interested groups who would like to hear about what I am doing and get behind me or other people with some kind of disability who want to get their butt off the couch.
Feel free to contact me if you have any questions/suggestions about sponsorship or training or even if you want to get out there and have a go guiding me around the streets, cycling or swimming, or whatever else sounds challenging.
I really appreciate all of the help that you have all shown to support me in this on-going crazy quest for pain. The rewards are worth every minute of training. Many thanks.
But more importantly, if you are blind or have vision limitations, then I hope this site helps to give you the information and encouragement to get those shoes on and get running. Man! If I can do it, then anybody can. Well unless your legs have fallen off. LOL! Even then there is no excuse. Go on, get on with it!
Cheers
Mike
Last updated May 2017.
Website created by Michael Lloyd - © Blindrunner.com 2007 - 2017