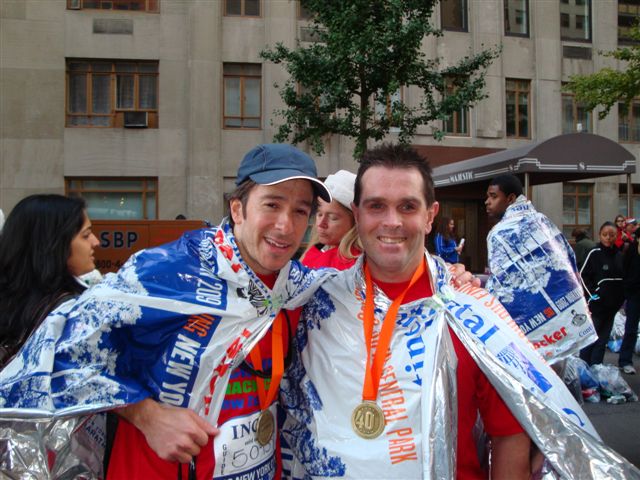 Wahoo! That is number 2 marathon done.
The big event for 2009 was to tackle the ING New York City Marathon again on Sunday 1 November 2009 with my good friend Harris as my guide. The ING NYC Marathon is a 42.2 kilometre run through the streets of New York's five boroughs: Staten Island, Brooklyn, Queens, the Bronx, and Manhattan with the support of two million enthusiastic spectators. The course travels through dozens of culturally and ethnically diverse neighbourhoods, passing over five bridges, and finishing up at Tavern on the Green in world-famous Central Park. For more info on the ING New York City Marathon check out the official New York Marathon Website
My training this time was extremely varied with tandem cycling, aquajogging, gym work and a scary amount of treadmill hours. Shins were OK, but I was a little aware of their ability to become an issue if I pushed it.
I ran in association with Achilles International New Zealand. Achilles supports people with disabilities to Participate in mainstream sporting events with the major focus being the New York City Marathon.
So why go back? I had two reasons for wanting to run the New York Marathon again. 1 - To prove to myself that the first one wasn't just a fluke (smile) and 2 - to continue putting myself up as an example that people with disabilities can participate in these events and not let any physical impairment limit what you can achieve in life.
Wow, Again what a fantastic experience. A huge day which will stay with me for ever.
We arrived in NY on the Wednesday night prior to the marathon after 18 hours flying from NZ plus airport stop overs etc. This time I Walked everywhere all week. Definitely way too much prior to the big run, but again NY takes you over. Attended a few Achilles dinners and met some awesome people from all over the world with various disabilities.
Met up with Harris and his lovely lady Meg on the Friday night after their train trip up from Washington DC. Spent Saturday afternoon looking around NY with them as well as introducing Mr Rope to Harris. As he had never guided a blind runner before, it was good to get the introductions and instructions out of the way. Who needs practice ay Harris? The Kiwi way is "just do it".
Race Day (Sunday Nov 1 2009) An early start. Getting up at 3:30 am after minimal sleep. Do the breakfast thing, get on the race kit and also extra pre-start discardable clothing.
We left the hotel at 5:00 am with the rest of the NZ Achilles team and walked to meet the bus. Caught the bus around 5:30 and travelled around 45 minutes to the starting area.
A showery overcast day with the temperature being around 7 degrees C at the start. The showers stopped and the sun even came out later in the day. The road was dry by the start and the days high temp was around 15.
Once off the bus we hung out eating, drinking and trying to stay warm until around 9:30 when we moved into the main field of competitors. Time to discard the extra clothing. Achilles New York managed to find us another runner Laurie who would run with us.
This year the start was split into three waves which were 20 minutes apart from each other. When the gun went off for our start at 10:20 we were still trying to get to the road. The first stage was up the bridge from Staten Island (while trying to miss the piles of discarded clothes that littered the road) and into Brooklyn and the start of the crowds.
People, people and more people. The streets were lined multiple people deep with supporters waving, clapping, yelling and shaking, hitting or blowing anything that would make a noise. Bands playing alongside the street every few hundred metres and loudspeakers or stereos playing music everywhere.
Harris and I were wearing Achilles NZ T-shirts which we had written our names on. People would shout our names along with encouraging prompts. Just an unbelievable atmosphere. This continued right through to the finish line.
We found it a challenge getting through the other runners/walkers, but with the split start, the general traffic wasn't as bad this time. The road surfaces are pretty shocking with pot-holes everywhere, but either from the skilled guiding from Harris or my angelic floating nature (just amazing good luck), I didn't trip up once.
We managed to keep to a good pace most of the time up to the half way mark. Refuelled at the drink stops to top up the fluids and used this time to walk for a few seconds and down a GU pack.
I cramped up at around the 23 kilometre mark (14 mile). Tried to stretch out my Hammie with the result of everything else cramping big style in sympathy. This meant we had to walk for ages. Not at all what I needed with 19 kilometres to go. A scary few minutes until I got my head around the fact that it was a day to enjoy and no matter what, I would cross that finish line and get that finishers medal. We walked over the double level 59th bridge and up 1st Avenue. The legs slowly started to free up again which allowed me to run for a while at a time before needing to walk out the cramps.
Laurie (my extra Achilles guide) managed to supply us with bananas and oranges which was awesome. I never thought in my life that an Orange could taste so amazing. Nice work Laurie, you were a life saver.
Covering the final few miles coming through Central park we managed to run a little better for a few minutes at a time, then walk for a minute and so on. Legs were heavy and sore. Surrounded by screaming spectators we battled on. When in reach of the finish line we pulled out the last of the reserves and sprinted dramatically up the final few hundred metres of hill to cross the line arms held high. 5 hrs, 34 mins and 32 secs.
Not a time to rave about, but we still successfully finished. 42 kilometres is difficult to travel on foot whether fast or slow and those cramps sure made it a tough day at the coal face.
A few photos taken after the marathon in Central Park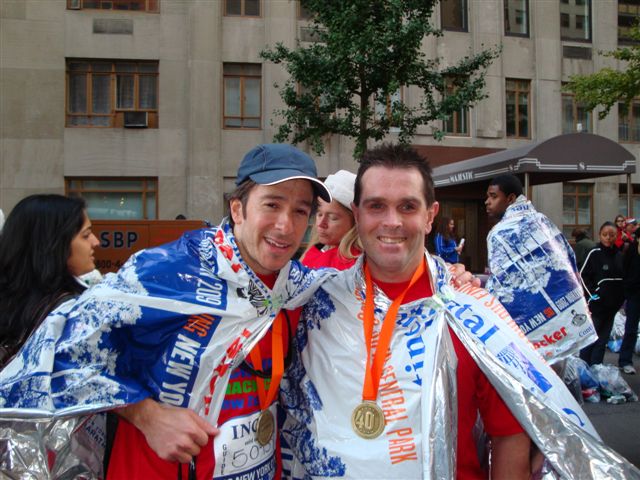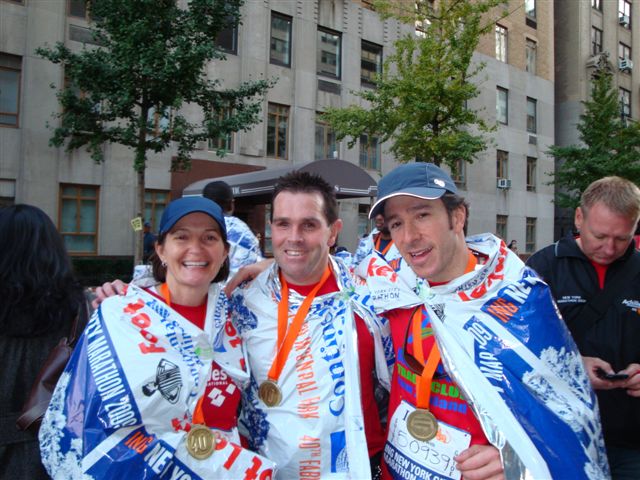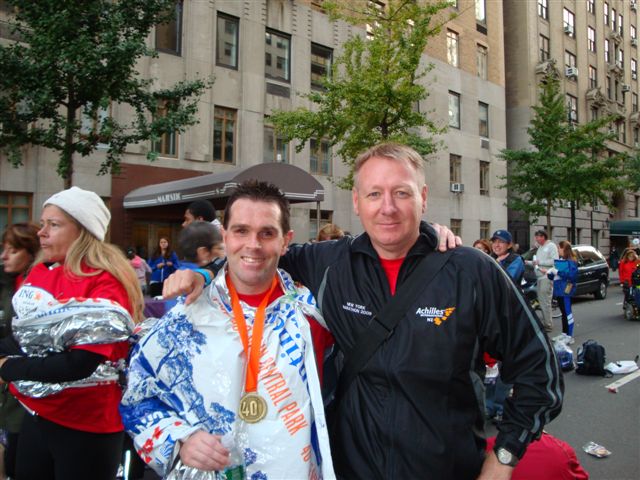 After the well needed food and drink, we walked and subwayed back to the hotel for a shower and then off downtown to a Kiwi restaurant for dinner and drinks.
Congratulations from me to all of the other Achilles NZ team 2009 members for completing the marathon. Again, a huge thanks from me for helping make this week an outstanding success and a long-lasting memory. You are a great bunch of people and I hope you each got as much out of this event as I did. A special thanks to Martin (our team manager) to doing such a top job.
A huge thanks to my good Friend "Harris" who did such a fantastic job of guiding. Memories of this run will stay with both of us for ever I am sure. A very special day. Thanks mate. For your first time guiding a blind runner, you passed with flying colours. In fact you even got a medal for it. LOL.
Thanks to all of you who stuck by me during the leed up to this event whether you were on a bike, in the gym, splashing around the pool or just generally giving me crap. It really means a lot so a very big thanks from me.
Website created by Michael Lloyd - © Blindrunner.com 2007 - 2012