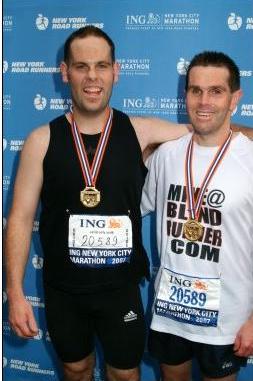 Hi there.
For those of you who don't know me, my name is Michael Lloyd and I live in Birkdale on Auckland's North Shore in New Zealand. I am vision impaired an have taken up the sport of long distance running.
The major plan for 2007 was to travel to the US and do the ING New York City Marathon on November 4 2007 with my brave brother Gavin as my guide and survive. A 42.2 kilometre run through the streets of New York's five boroughs: Staten Island, Brooklyn, Queens, the Bronx, and Manhattan with the support of two million enthusiastic spectators. The course travels through dozens of culturally and ethnically diverse neighborhoods, passing over five bridges, and finishing up at Tavern on the Green in world-famous Central Park. For more info on the ING New York City Marathon check out the official New York Marathon Website
Many people have asked "Why did you want to do this?" I had two main reasons for wanting to complete the New York Marathon.
Firstly the personal achievement of completing the 42.2 kilometre world famous marathon which has always been one of my major life dreams. It is only such a minuscule percentage of the population that ever complete a Marathon in their lifetime and it was my aim to be one of them. And well, Hay, Why not do New York.
Secondly, the knowledge that my devotion and commitment to strenuous training and the persistent quest to overcome physical barriers due to my blindness is having an inspiring positive effect on both the general community as well as other people with physical impairments. I am constantly receiving comments from people who see me training that it makes them realise that everybody can achieve far more than they realise as long as they commit their mind, body and soul to the goal, and are prepared to find solutions to challenges that can easily be perceived as barriers.
I ran in association with the Achilles Track Club. The Achilles Track Club New Zealand supports people with disabilities to take part in the New York City Marathon. For more details check out the Achilles Website or contact President Peter Loft on (home) 09 476 6430, (Work) DDI 09 524 1534, (Mobile) 021 355 866, or Email Peter Loft
Wahoo!! Did it!!
Wow, What an amazing experience. A simply massive day which will stay with me for ever.
We arrived in New York on the Tuesday night. Walked everywhere all week. Probably way more than we should of prior to the big run, but NY is all consuming and it is very hard to turn it off. Did a small run around Central Park on the Thursday just to free up the legs. Attended a few Achilles dinners and met some great people from all over the world with various disabilities.
Race Day (Sunday Nov 4 2007) An early start. Getting up at 5:00 am after an anxious sleep. Down some breakfast, get on the race kit and also extra clothing which I had planned to discard at the start line. Checked my shoes and made sure we had the all important rope (about a million times).
Left the hotel around 6:00 am with the rest of the NZ Achilles team and walked to meet the bus. Caught the bus around 6:45 and travelled around 45 minutes to the starting area. A clear calm day with temperature around 8 degrees C at the start and the days high of around 15.
The start area was full of people, music and the vibe of excitement, anticipation and the general feeling of "Wow, we're really here. Oh crap, here goes nothing." Time for a couple of Power Bars and some fluids.
We stayed as a group until around 9:30 when we moved into the main field of competitors. So many people from so many countries all excited and anxiously waiting for the starters gun. Approximately 38,000 people. Time to discard the extra clothing. Achilles New York managed to find us another runner Stephanie who would run with us.
When the gun went off at 10:10 we were still trying to get to the road. It took us around ten minutes to cross the start line. For the first few kilometres our main focus was to not trip on the piles of discarded clothing. Up the bridge from Staten Island and into Brooklyn and the start of the crowds.
People, people and more people. The streets were lined multiple people deep with supporters waving, clapping, yelling and shaking, hitting or blowing anything that would make a noise. Bands playing alongside the street every few hundred metres and loudspeakers or stereos playing music everywhere.
I was wearing my "Mike Blind Runner" T-shirt. People would shout my name along with encouraging prompts. Just an unbelievable atmosphere. This continued right through to the finish line.
We found it a challenge getting through the other runners/walkers. So many people all trying to use the same road. This certainly made it a challenge for both Gavin as far as guiding me and for me making sure that I wasn't tripped up or cut off by other runners. Everybody was looking for the gaps and making the most of every opportunity to do a good time. The road surfaces are rather rough with pot-holes everywhere.
We managed to keep to a good pace most of the time. Took advantage of drink stops (similar to war zones), to top up the fluids and used this time to walk for a few seconds and down a GU pack. What water wasn't drunk was tipped over the head. Slippery underfoot from water and a sea of plastic cups.
Around the eight mile mark we managed to lose Stephanie somewhere. I think we did a quicky gap run and somehow left her behind. Thanks anyway Steph. "Bugger, and she was such a great drinks girl too."
A mostly flat course apart from the bridges. We found the bridges OK and were not phased by them. The general race pace would slow with the incline on the bridges which added more work to get through the gaps in the runners.
One of the big bridges is a double level bridge and we were running on the lower level which was very dark, crowded and the road surface was rough. I twisted my dodgy ankle on a plastic bottle which had me worried for a minute. Managed to walk it out for a few seconds and didn't have any problems with it after that. Relief!
We progressed steadily until around the 20 mile mark (32 kilometre), where we both started to feel it. We were both coaching the other on. Gav was having issues with his IT Band which we momentarily got some medical attention on and we struggled on. Those of you who told me that the marathon doesn't start until you get to the 32km mark were dead right.
Coming through Central park was the hard grind with gradual hills that at this point seemed like mountains. If going up them didn't hurt enough, going down them hurt more. Legs were heavy and sore. Surrounded by screaming spectators we battled on. When in reach of the finish line we pulled out the last of the reserves and dashed up the final 500 metres of hill to cross the line arms held high. 4 hrs, 36 mins and 48 secs.
About a minute later we both asked each other "who had the rope.: We laughed and realized that in our total celebration of reaching the line that we had both abandoned the rope that had kept us together for the last four and a half hours. We waddled up and got our finishers medals and did the photo thing. Just ecstatic!
We grabbed a drink and a little food and made our way to the Achilles finishing area where were able to change into dry clothing and get a massage. Then we walked/subwayed our way back to the hotel. A hot shower and good feed later and it was beer time. A great days work done by all.
Split times: 5km - 0:30:00, 10km - 0:58:37, 15km - 1:27:46, 20km - 1:58:01, 25km - 2:29:22, 30km - 3:01:00, 35km - 3:35:47, 40km - 4:17:01, Finish time: 4:36:48. Average per mile: 10:33.
Congratulations from me to all of the other NZ Achilles team 2007 members for completing the marathon. A huge thanks from me for helping make this week an outstanding success and a long-lasting memory. You are a great bunch of people and I hope you each got as much out of this event as I did.
A huge thanks to my brother Gav who did such an amazing job getting us both to the finish line as well as getting me around NY and DC during our two week US trip. Cheers Bro. You're a top man. I know it was difficult being away from the family for such a long time, so I really appreciate your efforts.
I would like to take the opportunity to thank all of you that have supported me with this mission. It has been an interesting path of up's and down's, highs and lows and as many of you have told me, "Marathon running is just as big of a mental challenge as it is a physical." I feel that doing the NY Marathon was just the reward for all of the hours that have been invested in training.
---
(Update October) In the last week of build-up and feeling OK overall. Had a few tough runs which make you feel a little under-cooked, but I feel ready enough to complete the run. Gav has also had a few leg issues, but seems to have worked through them so it's game on from here.
It has been quite a media week with a short interview on TV3's Sunrise program on Wednesday morning 24 Oct and a New Zealand Herald newspaper article on Thursday 25 Oct.
I strained the tendons in my left ankle in late August and after five weeks out of action have had an interesting build-up. The ankle is getting stronger with each day now so all I have to do is keep up the last of my training and hope for the best. When the injury happened, I was told by the Physio to not run for up to four to six weeks. ("Oh great! Major panic!! I had to obviously change my training plan ever so slightly to keep the build up on track as much as possible with aqua-running, bike, swimming and gym workouts. Not at all what I wanted to be told at that stage of my marathon build-up, with ten weeks to go at that point, but them's the chips I guess. Failure is not an option and as the old saying goes "If you don't quit, you will make it." The ankle feels a little weak, but a lot better than it was so here's hoping it holds together.
I have recently started training with the YMCA Marathon Club. We had been doing Interval training on the track at Mt Smart Stadium on a Thursday night and then a long road run on Sunday mornings. A great bunch of people who are very committed to their running and very supportive of my goals etc and a great wealth of information. Many thanks to Andy Harper who has been awesome in organising guide runners for me and much more. YMCA Marathon Club Website
I completed the Sri Chinmoy Self-Transcendence half marathon held at Auckland Domain on Sunday 29 July 2007. Finished in 1:57 which I was fairly happy with as I felt there was still enough fuel in the tank to go a little further. Weather was extreme with heavy rain and winds. Made for an interesting event, but at least it kept the temperature down. This gave me a good idea as to where my ability level was at.
The first real challenge was the Auckland Half marathon on Sunday Oct 29 2006. I managed to complete the run in 2:06 after hideous shins played a big part, but at least we finished the thing.
Cheers
Mike
Website created by Michael Lloyd - © Blindrunner.com 2007 - 2015